ADL CEO Speaks in Michigan
Since the last newsletter, we've had a number of remarkable community efforts. On May 23, Jonathan Greenblatt, ADL CEO and National Director spoke before a large gathering of community members at the Berman Theatre. Jonathan was joined on the stage by George Selim, ADL's Senior Vice President of Programs. The two talked about the state of Anti-Semitism as well as the actions ADL is taking to combat hate in all forms. The event was well-attended and the office has received a number of positive calls about the effort. Click here to read the Jewish News article covering this event.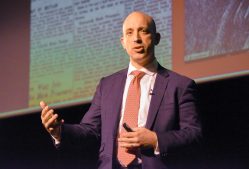 Academy Award-winning Film Partnership
A remarkable collaboration was held between ADL, Hadassah, and the Lenore Marwil Detroit Jewish Film Festival on June 23 which featured deep discussions about white supremacy and its manifestations in our country. The event included a viewing of the Oscar Award-winning short film SKIN as well as a panel discussion moderated by local Journalist Bankolé Thompson, and featuring Director Guy Nattiv, film Producer Jaime Ray Newman, Activist Daryle Lamont Jenkins of One People's Project and Rev. Kenneth J. Flowers – co-director of the Coalition for Black and Jewish Unity – and pastor of Greater New Mount Moriah Missionary Baptist Church.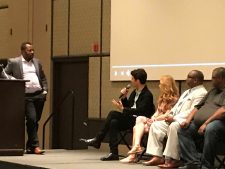 (speakers left to right: Bankolé Thompson, Guy Nattiv, Jaime Ray Newman, Rev. Kenneth Flowers, and Daryle Lamont Jenkins)
Michigan Board Chair Changes
A debt of gratitude goes out to our outgoing Board Chair Margaret Hall, for her guidance. Margaret, a member of the board for more than a decade, served as board chair for 2017 – 2019. Matt Levine succeeded Margaret as chair in June and will serve for the next two years. Thank you, Margaret, and Best Wishes, Matt!
GLI Leadership Institute/NLS
Another thank you goes to Kevin Majewski, chair of this year's very successful Glass Leadership Institute (GLI), underwritten by the Sills Family Foundation. All eight GLI participants graduated from the leadership class this year – and all attended the National Leadership Institute (NLS) event in Washington, DC, which culminated in the GLI class visiting a number of Michigan House Representatives and both Senators offices, to lobby on behalf of ADL's positions on topics including anti-Semitism, equality and immigration. Michigan had a strong presence at the event; in addition to GLI members and office staff, several ADL board members attended the conference, which for the first time combined NLS with the National Commission Meeting (NCM).
Detention Practices
ADL continues to draw attention to the humanitarian crisis at the border, which in many ways has worsened for migrants in the past year. The issues now go well beyond the forced family separations. Migrant children are being held in overcrowded, unsanitary and dangerous detention facilities in violation of the Flores settlement agreement that requires children to be moved quickly from Department of Homeland Security (DHS) to Office of Refugee Resettlement (ORR) and to be housed in safe and sanitary conditions. ADL has gone on record opposing DHS's rules to remove key safeguards put in place by Flores.
We are stunned and outraged when children are being held for weeks and months in prison-like facilities and conditions, and when toddlers have to be hospitalized because of neglect within the facilities. The deaths of children in Customs and Border Patrol (CBP) custody are inexcusable. ADL continues to call for oversight of the detention facilities, that families be reunified, that Congress encourage use of alternatives to detention and that the government immediately act to improve conditions in these facilities and comply with U.S. law.
Ice Raids
President Trump recently announced that ICE would conduct large scale immigration raids targeting parents and children in multiple cities across the country and then delayed those raids. Although the President subsequently indicated that he would delay the raids, ostensibly to see if Congress will act, the fear the original announcement created remains, and it is unclear how, if at all, Congress can or will address the issue to the President's satisfaction.
Regardless of when ICE raids begin, we are concerned that the threat of such raids has already generated significant fear and intimidation among immigrants, immigration advocates and immigrant communities. We see these raids, targeted at families, as part of a larger, effort by the Administration to criminalize those seeking asylum, deter them through fear, and demolish our asylum and refugee systems.
We condemn the use of raids by immigration enforcement officers, which not only spread fear but also undermine public safety for all. Immigrant communities that are deeply fearful of law enforcement and government authorities prevent law enforcement from doing their jobs to protect their communities.
Administrative Immigration Policies and Additional Issues
ADL's advocacy for Dreamers continues in Congress and in the courts. We are calling on the Senate to take action on the Dream and Promise Act as the U.S. Supreme Court considers whether or not to grant the government's petition to reconsider lower court decisions blocking President Trump's decision to end DACA.
ADL is heartened by the decision of the Supreme Court denying the use of a citizenship question in the US census, and is proud to have joined an amicus brief that opposed the question. ADL will continue to file amicus briefs challenging Department of Justice efforts to link the receipt of federal public safety grants to immigration-related conditions, including most recently at the 9th Circuit Court of Appeals.